Hey Hey, it's been quite a while since I updated here, anyhoo today I bring you 5 lipsets, although they are all pretty similar I coudn't decide which not to include so you can have them all instead :)

They are Alpha-edits of a helloguagua lip at Sims2Heaven because the texture on those lips is far too pretty not to steal, fitted onto either an Ephemera or Pooklet alpha so they fit simmies much nicer.


Actually for these lips I handpainted the alpha myself (they're not 100% symetrical but that makes them cooler, i think :P), they don't fill the lip completely and leave a nice outline underneath, they are blended with a NewSea lip texture to give a more glossy look.

DOWNLOAD DOLL LIPS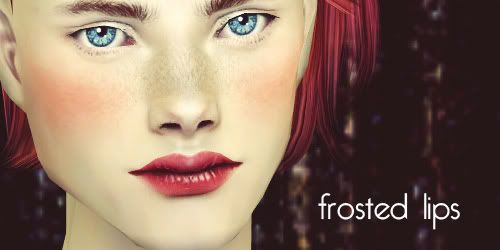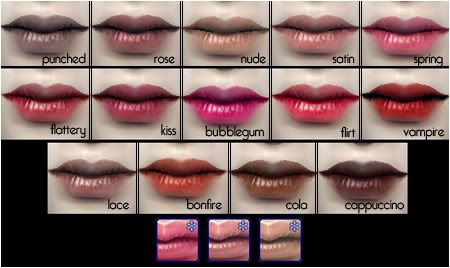 Super plump and pretty lips, These are purely the helloguagua lips on an Ephermera alpha, recolored by me.

DOWNLOAD FROSTED LIPS




These lips are for those of you who want their sims to be mad cool with bold matte colour stained lips, lol. Using Pooklet's super soft alpha.

DOWNLOAD STAINED LIPS




Again Purely the helloguagua lip on the Ephemera alpha, HOWEVER I did slightly alter the alpha so the edges are more transparent. Looks mighty fine on male sims. Colours are less "frosted" and more bright.

DOWNLOAD SWEET LIPS






Last set and these lips are blended with a NewSea lip texture to give a slight gloss/jellyness, also the alpha is slightly larger so lips are more shapely and smiley perhaps.

DOWNLOAD JELLY LIPS

Files are all labeled with pictures so you can remove whatever you want. Edit further if you want, but most of all Enjoy.